Food Manufacturing Software – SYSDEM Overview
SYSDEM Food Manufacturing Software delivers a comprehensive, web-browser based office management system for the Food Industry that manages purchasing, sales, production and delivery. Utilizing the latest technologies and compatible with tablets and mobile devices, SYSDEM offers a real-time view of your Food Manufacturing or Meat Processing business anytime, anywhere, on any device.
The software is fully integrated with easy-to-use operator interfaces on the factory floor and hardware such as barcode scanners, touch screen PC's, high-speed industrial printers, handheld mobile computers and weighing scales to capture the data and processes you need to ensure quality and control over your food products and meet safety and compliance standards.
Centralization and Visibility
Eliminate the need for multiple software products to manage stock and fulfil orders. Manage and coordinate all channels and locations in one Food Manufacturing platform.
Gain useful insights for inventory and order planning using our comprehensive library of reports and forecasting tools.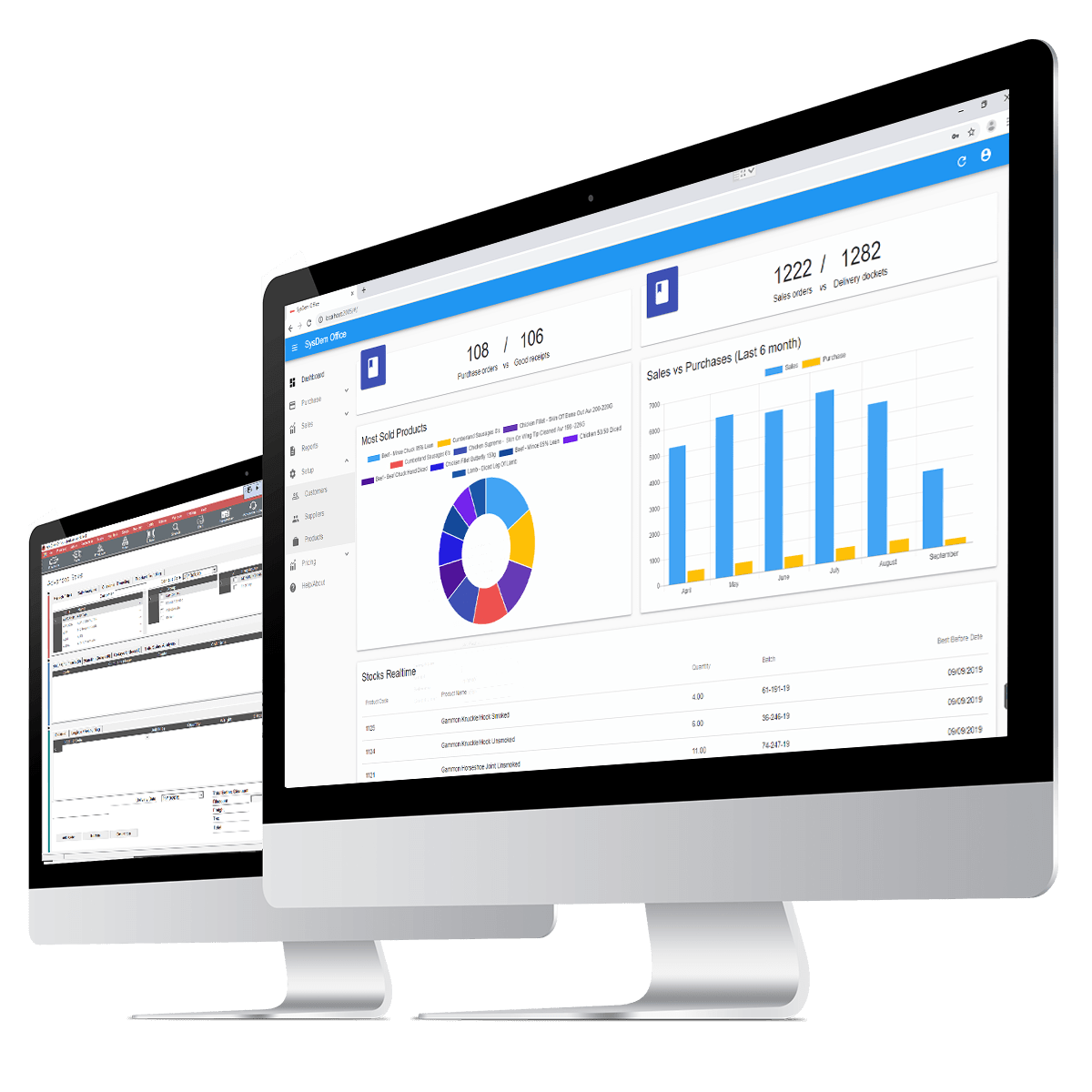 1
The intuitive user interface makes the hardest tasks an easy job. Place purchase orders, manage sales, create production orders, view traceability, stock reports and invoicing…
Automation and Flexibility
Configure SYSDEM for your particular business. Manage stock and orders for production jobs, brick-and-mortar stores, and eCommerce websites as well as marketplaces and B2B channels.
Handle increasing order volumes efficiently with integrated workflows and automated inventory processes.
Gain useful insights for inventory and order planning using our comprehensive library of reports and forecasting tools.
Maintain inventory and order control as your business expands to new channels and markets. Quickly integrate with global 3PLs, EDI retailers and shipping solutions.
1
Production jobs are displayed on factory terminals. The current status and fulfilment level of the production order is displayed live, on-screen to users throughout the factory.
2
The recipe formulation module guarantees ingredients are dispensed and traced accurately, and on a consistent basis.
Integration with Accounting
SYSDEM links with your existing accounts package to provide you with one integrated, paperless, food manufacturing business management system.
Track actual costs that factor in freight, duties and more, and easily reconcile your sales, costs and orders with most popular accounting software including SAP Business One, Microsoft Dynamics, Sage 50, Sage 200, QuickBooks or Xero.
25
+ Demos
designed to suit your business, products and workflows
5
,
000
+ Users
who trust SYSDEM to run their business
Customer Support
on site, phone, email, and remote dial-in
Automatic Upgrades
Always have the latest version
500
+ Options
to optimise your business processes