Sys| dem Office
Back-Office Management Software Module
Sys|dem delivers a comprehensive, office management system for the Food Industry.
Purchasing & Goods Inwards
Manage purchase orders, gauge vendor performance and create new orders from your own historical data. Granular purchasing inputs ensure that you can account for all purchased materials from any vendor.
Sales Order Processing with order history, Telesales
Centrally manage sales activities, such as entering quotes, fulfilling sales orders, creating deliveries, tracking prices, applying discounts, and checking available inventory.
Production Planning, Recipe Batch Control
Control all aspects of production management from the creation of work orders to tracking the work orders through the production process.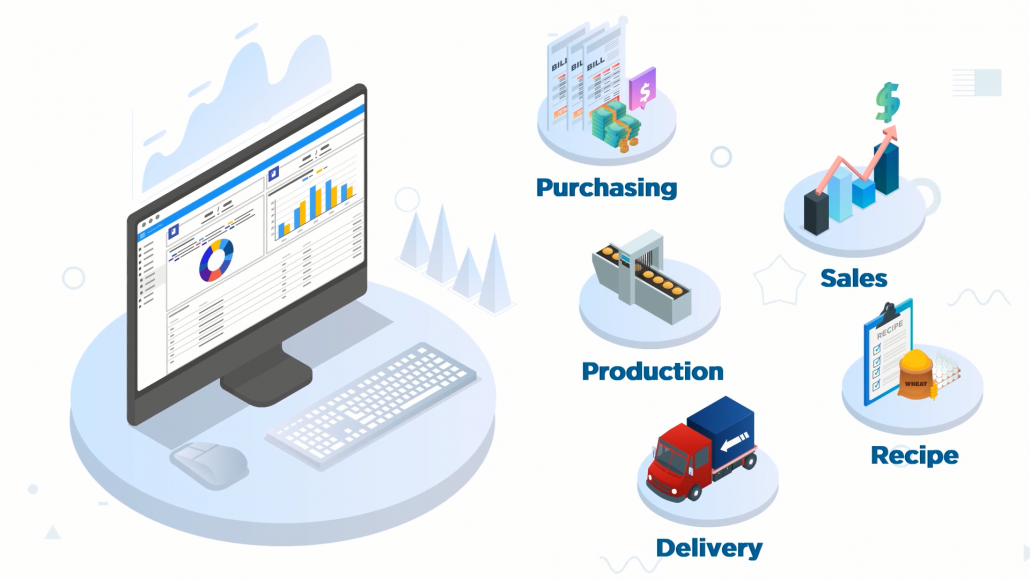 | Sales | | |
| --- | --- | --- |
| Sale Order | Sales Quotations | Sales Web Orders B2C |
| Proforma Invoices | Fast Order Manager (FOM) | Sales Approval Workflow |
| eCommerce | TeleSales | Standing Order |
| Sales Templates for Hampers | Stock Available to Promise | Stock Allocation to an Order |
| Sales Analysis | MRP | Sales for B2B |
| Delivery | Price Management | Returns |
| Traceability | Reporting | Routes |
| Dashboards | | |
| Purchasing | | |
| --- | --- | --- |
| Purchase Order | Recent Order | Purchase Analysis |
| Price Management | Reporting | Goods Received |
| Traceability | Purchase Return | Purchase Planning |
| GS1 Workflow | | |
| Suppliers | | |
| --- | --- | --- |
| Suppliers Setup | Suppliers Group | Suppliers Products |
| Suppliers Prices | Suppliers Barcodes | |
| Item Master Data | | |
| --- | --- | --- |
| Item Group | Item Prices | Item Specification |
| Item Barcodes | Item Images | Traceability Templates |
| Unit of Measure Groups | User Profile Settings | |
| Labelling | | |
| --- | --- | --- |
| Sys|dem Label Software | Bartender Software | Label Association |
| Barcode Type 128 | Barcode Type SSCC | Barcode Type GS1 |
| Barcode Type 2D | EAN Barcodes | Custom Barcodes |
| Customers | | |
| --- | --- | --- |
| Customer Setup | Customer Group | Customer Products |
| Customer Prices | Customer Specification | Customer Barcodes |
| Stock | | |
| --- | --- | --- |
| Real-Time Stock Control | Reporting | Stock Movements |
| Stock Adjustment | Stock Takes | Multiple Unit of Measure |
| Stock Serialization | SSCC Barcoding | Stock Yields |
| Stock Costing | Stock Journals | |
| Production | | |
| --- | --- | --- |
| Production Order | Production Job | Production Template Assembly |
| Production Template Disassembly | Product Substitution | Production Costing |
| Scheduling/Planning | Standing Jobs | Costs/Weight Yields |
| Organizational Structure | Production Lines Management | Lined Up Locations Management |
| FIFO Backflush Consumption | Allergens Warning | Ingredients and Nutritional Info |
| Reporting | MRP and Production Sequencer | Mix Capacity |